A memorial to humanity
The memorial contains no religious symbols, nor does it represent one nation, race or religion. Rather, its design was inspired by the belief that to empathize with those who endured the horrors of the Holocaust, one must – on some small level – experience a concentration camp itself.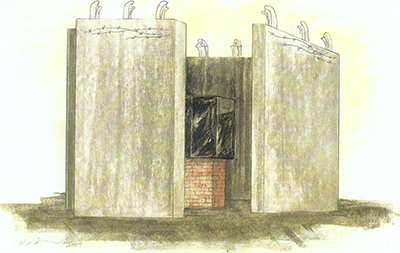 Visitors via an engraved brick railpath (donated by PanAm Railway) will encounter a tall black granite monument that reads "Never Forget," followed by two descriptive granite monuments. Entering the main monument visitors are surrounded by six large engraved granite walls encircling a brick column topped with a highly polished black granite cube. "Never Again" is enscribed on back of the tall black granite monument as visitors depart. The site, which also contains six engraved benches has been fenced, graded, hydro-seeded, and landscaped (with shrubs and perennials donated by The Home Depot). The Memorial's official opening took place on June 1, 2014. Future plans call for connecting the north and south sections of Rotary Park with a footbridge over Salmon Brook.
To help provide for ongoing maintenance we need your help. &nbsp Please donate today!